2021. Taiwan. Our Story. Good Times.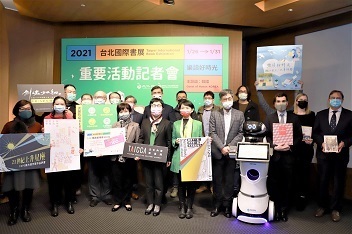 2021. Taiwan. Our Story. Good Times.
In 2020, the COVID-19 pandemic changed Taiwanese people's overseas traveling habits and started a trend of domestic travel. Therefore, many professional teams organized spectacular displays for the 2021 Taipei International Book Exhibition that present the successful image of the Taiwanese publishing industry's interaction and cooperation with other industries.
Taiwan. Our Story. The Beauty of Local Items.
The "Taiwan. Our Story." exhibition will display 40+ local magazines that cover various interesting items. Additionally, craftsmen and artists across Taiwan will demonstrate various techniques and skills of traditional craftsmanship on-site such as lacquerware, straw plaiting, ceramics, etc. Also, there will be featured picture books that are linked to the history of local cultures, which presents the vitality of Taiwanese culture.
Guided Tours of Taiwanese Literature by Robots.
The Taiwanese Literature section has made a special arrangement to serve as a kickstart to the COVID era—employing robots as tour guides. The robots will provide 50 introductory sessions each day in Taiwanese, Hakka, Mandarin, English, or Sign Language to provide user-friendly guided tours. During the exhibition period, there will be speeches given by experts, and chances to play board games which will exemplify the literature value and historical meaning of Taiwan's multilingual environment.
Taiwan Creative Content Agency Shows the Prosperous Results of Taiwan's Copyrights.
Established in 2019, Taiwan Creative Content Agency's vision is to shape the national cultural brand of Taiwan by encouraging the establishment of the Taiwanese cultural content industry, and attract investments and creativity into the industry. At the exhibition, the organizers have prepared audiobook performances that elaborate the creativity of comic books. In addition, at the "Travel Further with Stories" seminar arranged by the organizers, cases of cross-boundary publishing will be shared.
Civic Books Section Presents Breaking Dawn-themed Exhibition.
The civic books section is co-organized by the Taiwan Association for Independent Bookshop Culture, the Indie Publishers Association of Taiwan, and the Taiwan Labor Front. The theme of the section is breaking dawn, in which "breaking" represents the courage of breaking through obstacles, and that "dawn" eventually arrives after a long night. During the exhibition period, 7 sessions of "Bookstore Life Q&A" will be held. Thirteen bookstore owners and one scholar will share about the various perspectives that shape a bookstore, including the community, media operation, beliefs, and persistence.
A New Highlight of the Literature Section.
Wenhsun and Chiuko Publishing organized a section with the theme "Build Nests with Words. Welcome to the Home of Literature." The shelves and the design of the area are done in a bright and open space. Traditional Chinese words are used to create "nests" so that a nice and comfortable "home" is built for readers. This section hopes to create an atmosphere in which literature can help to soothe readers' minds and bodies, and show the strong creative ability and the wide application of the Chinese language.