Taiwan Publications Shine at Warsaw Book Fair 2019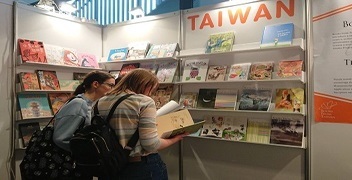 Taiwanese books were wildly popular at the 10th edition of the Warsaw Book Fair (WBF) from May 23rd– 26th, highlighting the fruitful outcome of the long-term collaboration between the Taipei International Book Exhibition and the prestigious Central European event. The TIBE and the WBF started the mutually-beneficial partnership over 10 years ago, according to TIBE organizer Taipei Book Fair Foundation, with the two sides swapping hosting duties annually. This year, the TIBE presence in Warsaw has been expanded to promote copyright and culture exchanges while maximizing event synergy.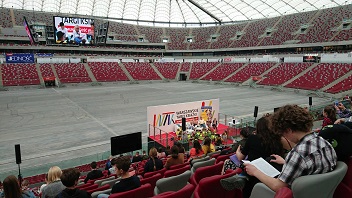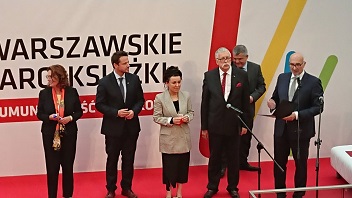 One of the oldest and largest book fairs in Central Europe, the WBF kicked off May 23rd to great acclaim, graced with the presence of Warsaw mayor Rafał Trzaskowski, the delegation from this year's honorary guest country Romania, and Olga Tokarczuk (the first Polish writer to win the Man Booker International Prize). Drawing 807 exhibitors from 27 countries this year, the WBF also boasted a stellar lineup of 1,038 writers and artists from around the globe who participated in 1,500 activities during the course of the event. Among these, 300 sessions were targeted at children, young adults, and families.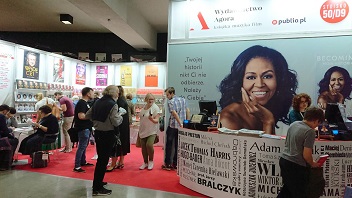 The Taiwan Pavilion was one of the crowd favorites on the opening day, as the latest children's books and comics from the country piqued great interest from attendees. These works included Chih-Yuan Chen's "Memories," Tom Liu's "Calder the Artist," and Yu-Lin Chen's "The Mountain That Vents," all having been sold to the international market. Books by famed Taiwan artists Jimmy Liao and Bei Lynn were especially popular among local students, as many young readers said they were therefore inspired to seek opportunities to learn Mandarin Chinese.
As part of its 10
th
anniversary celebration, the WBF organizer planned a wide range of activities, including a collaboration with the Academy of Fine Arts in Warsaw to design special edition posters. A piano was installed by the Fryderyk Chopin Society at the venue to encourage impromptu performances by the event attendees. The 2015 Nobel Laureate in literature Svetlana Alexievich—celebrated for her works on World War II, Afghanistan, and Chernobyl—also hosted a talk and a book signing at the WBF, which were the climax of the event.