2023TIBE: Guest of Honor Poland and International Highlights
Poland is the Guest of Honor country of the 2023 Taipei International Book Exhibition, the largest book fair in Asia, organized by the Taipei Book Fair Foundation in collaboration with the Polish Book Institute and the Polish Office in Taipei. The country pavilion of Poland in TiBE proudly features the silhouette of interwoven traditional Polish floral patterns in red, the national color of Poland, blending design elements from modern and old fashions. Readers and all visitors alike will discover Poland in a new foreign light.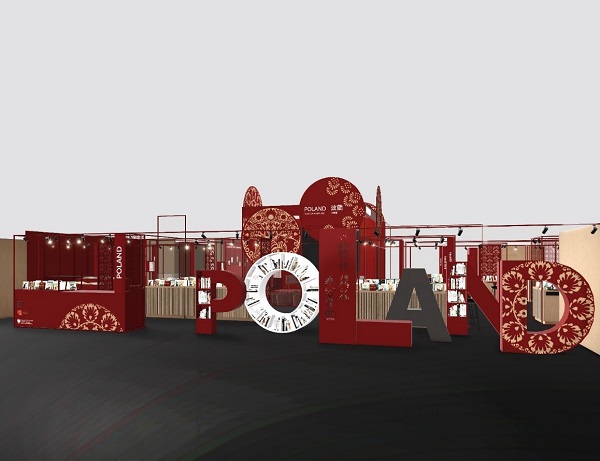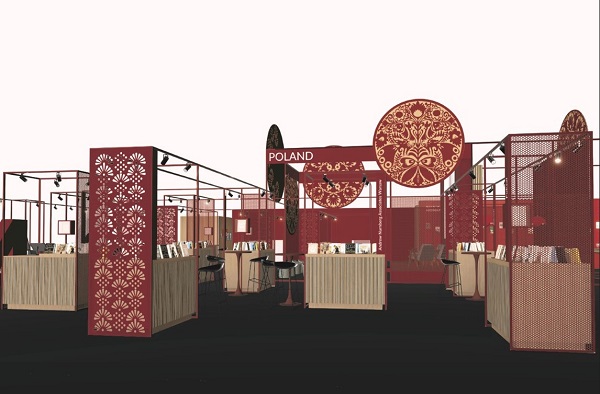 Pavilion plan of TiBE's Guest of Honor Poland.
GOH Poland: Exhibitions
Three major exhibitions are planned for Poland, the Guest of Honor Country. First of all, 24 representative Polish publications with topics ranging from legends to contemporary society will be on display to illustrate unique eras and events in Polish history, guiding visitors to see the origins of modern Poland.
The second exhibition, "Captains of Illustration," curated by the Adam Mickiewicz Institute, features a fabulous selection of classic children's books and paintings from Poland over the past century, including "Collection of Polish Children's Books and Picture Books", an introduction of outstanding illustrators and their works from 1918, the restoration of Poland's independence, to 2018.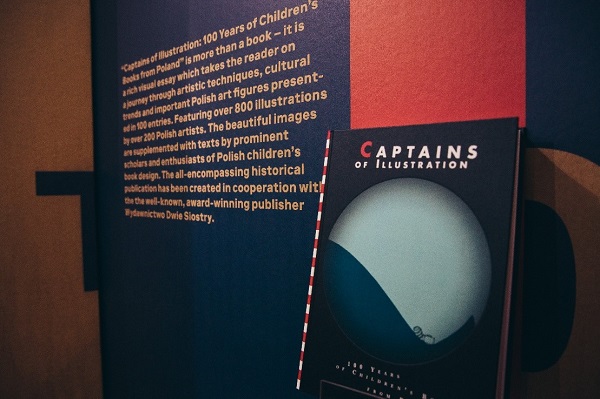 The exhibition "Captains of Illustration".
Image Source: https://gdyby.pl/captains-of-illustration-on-frankfurter-buchmesse/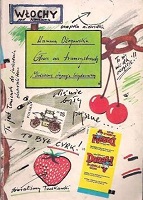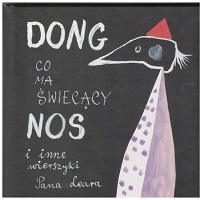 The exhibition books include (from left to right):
"GŁOWA NA TRANZYSTORACH", published by Młodzieżowa, 1988
"Dong, co ma świecący nos", published by Nasza Księgarnia, 1961
"Awantura o lemura", published by Nasza Księgarnia, 1956



The third exhibition, "7 Wonders of the World," is curated by Manuscriptum, a leading Polish publisher of rare books and antiquities, and features a collection of vivid reproductions of rare books that have shaped the history of world civilization. The exhibition titles include: The Book of the Dead "The Papyrus of Ani", Voynich Manuscript, Christopher Columbus "The Discovery of the New World", Gutenberg Bible, Leonardo da Vinci "Codex Leicester", Nicolaus Copernicus "De Revolutionibus" and Frederick Chopin "Concerto in F minor".
A highlight of the exhibition, "Flora Sinensis" from the Polish National Library, written by Father Michał Piotr Boym, a 17th century Polish missionary, is one of the earliest published monographs on the flora of the Far East in Europe.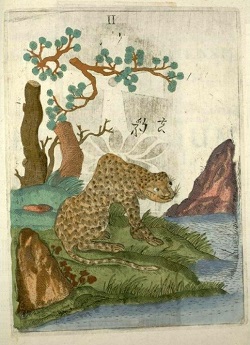 Pages in "Flora Sinensis".



GOH Poland: Featured Authors and Events
Poland, the Guest of Honor Country of 2023 TiBE, has invited eight heavyweight writers to join the fair. Andrzej Sapkowski of "the Witcher" series, the world's most popular fantasy novels, will visit Taiwan again; Witold Szabłowski, author of "Dancing Bears" and "How to Feed a Dictator" will also return to Taiwan to share his views on international affairs.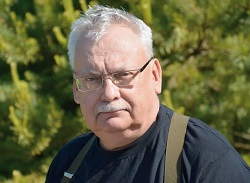 Photo of Andrzej Sapkowski. Photo Credit: Bogdan Uznanski

Other Polish authors to meet readers in Taiwan include Stanisław Łubieński, an ornithologist and writer who won Poland's most prestigious Nike Award in 2017 for "The Birds They Sang"; Rafal Kosik, a science fiction author who captivated Polish teen readers with his Amelia and Kuba series; Marzanna Bogumila Kiela, a contemporary poet whom critics have dubbed "Polish Sappho "; Bartosz Sztybor, who created two comic book scripts of "Harnessed Rebel 2077" and "the Witcher" ; Marianna Oklejak, winner of the IBBY Poland Book of the Year Award; and Piotr Socha, an illustrator of popular science books.
On Saturday, February 4th, at the theme square of the book fair, a "Polish Night" will be held from 19:30 to 21:00 with great music and food. DAGADANA, a four-piece performance group founded in 2008, will perform live with a fusion of Polish and Ukrainian folk music, jazz and electronic music. Bigos, a Polish signature dish, will be served on site for visitors to enjoy.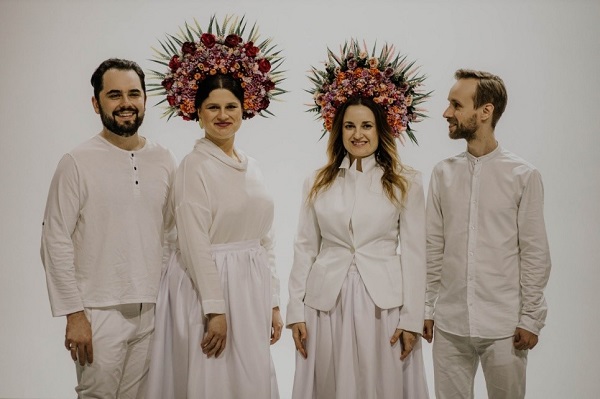 The band DAGADANA specializes at blending elements of Polish and Ukrainian culture with jazz, electronica and world music.



International Exhibitors Highlights
Italy
At the Italian Pavilion, alongside a selection of books from Italy, the exhibition of "Italian Excellence: The New Generation of Children's Illustrators" will be held, featuring art works from young Italian illustrators (aged 23-25) such as Andrea Antinori and Marianna Coppo to showcase the creativity of the new generation in Italy.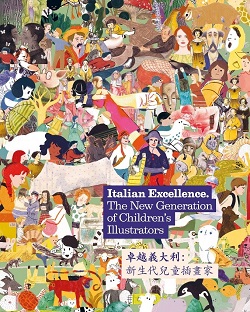 France
The French Pavilion presents expert seminars covering various fields. The list of speakers include David Le Breton, professor of sociology at the University of Strasbourg, Cécile Palusinski, president of La Plume de Paon, an audiobook promotion association, Jimmy Beunardeau, an independent French photographer, and Christophe Bonneuil, a French ecological historian.
Belgium
At the Belgian Pavilion, recommended picture books and graphic novels from the nation's 11 publishers will be exhibited. Marine Schneide, winner of La Pépite d'or 2022 du Salon de Montreuil award, will also meet readers in Taiwan.
Korea
The Korean Pavilion has invited three important writers to Taiwan, including award-winning Kim Young-Su, who published "World's End Girlfriend" and " If the Waves Belong to the Sea "; Sohn Won-pyung, whose works delve into youth issues and attempt breakthroughs in the social system; and Guo Ah-lan, an experienced writer and media personality.
Hong Kong
The Hong Kong pavilion will showcase a diverse range of academic, literary and independent publishing, including publications on learning English, Hong Kong cinema, Hong Kong music, and the development of contemporary Hong Kong literature. In memory of the renowned Hong Kong writer Xixi, who passed away recently, a commemorative poetic writing event will be held.
Ukraine
Eyeing on the saddening Ukraine-Russia war, the 2023 TiBE will present over 80 original Ukrainian works in line with the values of supporting peace and promoting diversity, freedom, and openness.
International Authors
Other international authors who will visit the book fair include Keiichiro Hirano, winner of Akutagawa Prize from Japan; Kim Thúy, a Vietnamese Canadian writer; Stephan Thome, a German writer deeply connected to Taiwan; and Jun Kumakura, a Japanese legal writer.