The Ministry of Culture of Taiwan Announces Book Vouchers for Taipei International Book Exhibition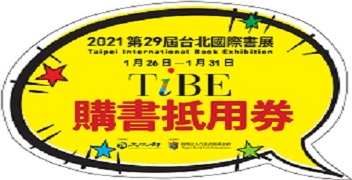 The Ministry of Culture of Taiwan announced the inaugural TIBE book vouchers for the 2021 edition of Taipei International Book Exhibition, scheduled for Jan. 26th -31st at the Taipei World Trade Center next year.
A total of 200,000 vouchers—each worth NT$100 (US$3.40)—will be available for all visitors upon entrance, according to the Ministry of Culture's Sept. 1st announcement. Valid for purchases made at the six-day event, the vouchers are expected to stimulate the local book market while giving the publishing industry a booster shot in the post-pandemic era.
The voucher will come with all TIBE tickets (including advance tickets), and will be available to free admission visitors who fit the following profiles: children under age 18, the disabled, foreigners, and visitors from outside the Greater Taipei Area (proof-of-fare required). Several booths will be set up throughout the venue for this purpose, while students and educational institutions enrolled in the TIBE Winter Break Reading activity can claim the voucher following online registration. The voucher can be redeemed for book purchases. No credit or change will be given for the unused portion of the voucher.
In continuation of the government's cultural industry promotion policy, the event organizer expects the inaugural voucher program to substantially boost sales at the book fair. Participating exhibitors and publishers are also encouraged to offer extra incentives to bolster overall sales.
2021 marks the 29th edition of the TIBE, as well as a wholly revamped reunion of publishers and readers alike. Basic service upgrades include expanded network bandwidth to facilitate application of online resources on-site, Mandarin Chinese transcription and sign language services at all theme sections and activity corners, as well as a more user-friendly environment—all maximizing the benefits of the book show by enabling a more diversified exhibition experience. Extra COVID-19 safety measures will be taken based on the instructions of Taiwan's Central Epidemic Command Center on a rolling basis to ensure a safe event.
The much-anticipated book fair will take place Jan. 26th-31st at its home venue, the Taipei World Trade Center. Early bird registration for the international section of the event will conclude Sept. 25th.