Big Win for Taiwanese Illustrators at the Bologna Illustrators Exhibition – Nine Illustrators Selected; Locus Publishing Shortlisted for the Best Children's Publisher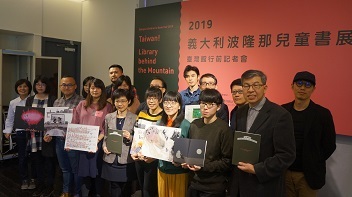 The 2019 Bologna Children's Book Fair was held from April 1st - 4th. For the very first time in the history of Taiwanese picture books, nine Taiwanese illustrators were selected for the Bologna Illustrators Exhibition—a record high number; proving Taiwan's vibrant creativity in the world of illustration. The nine selected Taiwanese illustrators were Chen Ying-Hsiu, Chen Yung Kai, Jiang Yu, Lee Yun-Chuan, Chang Meng Yun, Chou I-Hsien, Lin Yun, Tai Yu-Tung, and Teng Yu. Meanwhile, Locus Publishing was also shortlisted for best children's publisher.
Yin-Fang Chen, director of the Department of Humanities & Publications at the Ministry of Culture, expressed her excitement for the record-breaking nomination of Taiwanese illustrators. Chen also praised Page Tsou, the curator of the Taiwan Pavilion, for presenting new concepts consecutively for three years. "Taiwan, Library Behind the Mountain" was the main theme of the Taiwan Pavilion, where the image of a mountainous landscape represents the diversified creativity of Taiwanese picture books. This year, Ministry of Culture not only funded the travel expenses of the chosen nine illustrators, but also increased translation resources by 2.5 times. Foreign publishers who were interested in promoting Taiwanese illustrators' artworks to the world were welcomed to apply for subsidies.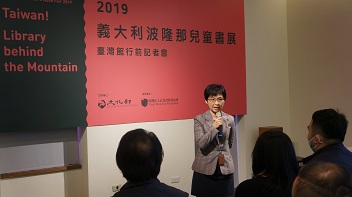 James Chao, president of the Taipei Book Fair Foundation, said it was a remarkable record that nine illustrators were selected from nearly 3,000 artists, and that Locus Publishing was shortlisted for the Best Children's Publishers of The Year award; proving Taiwan's vibrant creativity was being recognized by the world. Chao also expressed his gratitude to Jender Books for sponsoring selected artists to attend the fair for many years; this year's 40 delegates from Taiwan came to the fair and shared this great honor together. "It was 31 years ago that the first Taiwanese artist was selected in the competition. This year, it is such an honor to have nine artists selected and recognized."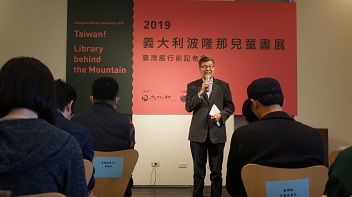 In other news, Locus Publishing Company was shortlisted for the 2019 Bologna Prize for the Best Children's Publishers of The Year award. Chief editor Oceanus Tang hoped this nomination would open more opportunities and cross-border collaborations for artists from different fields.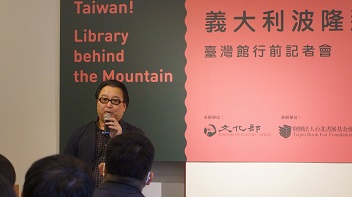 Sarah Ko, Taiwan Pavilion adviser, observed that the Bologna Children's Book Fair has been transitioning toward presenting greater diversity, as well as pushing for innovation and experience sharing. More events, exhibitions, and workshops were also held, such as the Illustrators Survival Corner and the Portfolio Review—for artists, writers, painters, agents, and editors to meet and exchange experiences and thoughts. Ko further commented, "I encourage illustrators to think of this event as a debut to professionally introduce themselves on this international stage."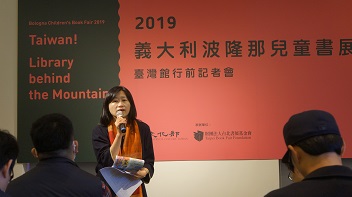 As the curator of the Taiwan Pavilion, Page Tsou also shared his view about the event. "Since my first nomination some years ago, the Taiwan Pavilion has been the main stage for Taiwanese illustrators to shine and be recognized. Everyone gathers here. And it would be a pity if we didn't make it right in the first place." Tsou has been acting as curator of the Taiwan Pavilion since 2017, leveraging the Taiwan Pavilion as a cultural brand. According to Tsou, it is the natural landscapes that make Taiwan a beautiful country; hence the use of the color green represented Taiwan's mountainous terrain as well as the vibrant creativity of Taiwanese picture books. A special exhibition titled "Paradise: 30 Illustrators from Taiwan and Their Animal Characters" was showcased at the pavilion, featuring 90 works from 30 illustrators.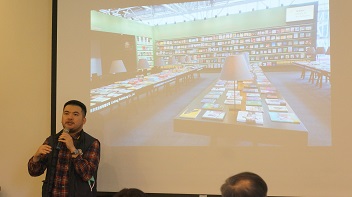 For many years, Jender Books has been sparing no effort to sponsor the selected illustrators attending the Bologna Children's Book Exhibition. Ching-Wen Lo, director of Jender Books, pointed out that Taiwan's creativity and democracy are increasingly being recognized by the world in recent years. Lo continued, "The chosen nine artists have helped Taiwan recognized by the world, making Taiwanese creative culture globally known."
Selected Taiwanese Artists at the 2019 Bologna Illustrators' Exhibition
Chen Ying-Hsiu
It is Chen Ying-Hsiu's first time to be selected by the Bologna Children's Book Exhibition. She was thrilled that her works were recognized by the jury of the Illustrators' Exhibition. Chen was inspired by a flight experience when traveling to Poland with her sister to receive the award of the Art Moves International Billboard Art Competition in 2018. During the layover flights, she imagined herself as a child who was traveling abroad for the first time with a feeling of freshness and excitement. She utilized the stacking and misalignment of colors to portray a bustling airport. Chen currently runs a design studio with her sister. Her artworks have received several international awards such as 3X3 International Award and the WIA award.
Chen Yung Kai, I Was Once a Tree, Now I Am a Book (Temporary translation)
Also a first-timer to the Illustrators' Exhibition, Chen Yung Kai (aka Animo) is a well-known illustrator in Taiwan. Chen designs book covers, and his works are often seen in newspaper supplements. As an active mountain climber, Chen often gains inspirations from nature; creating a series of artworks about trees. It is Chen's first submission to the Illustrators Exhibition. While speaking about his inspiration behind the selected artwork, Chen said the story is about a tree falling in love with a girl. He added, "I think every reader must have his or her favorite book, and in their previous life, it might be a tree who falls deeply in love with you." In this heartfelt story, the tree dreams to become the girl's favorite book while she is growing up, in an attempt to be close to the little girl.
Chang Meng Yun, We Will be Waiting for You to Return (Temporary translation)
Chang Meng Yun (aka Miss Catfish) pursued her illustration career after graduating from university with a philosophy degree. As an animal lover, she often speaks up for animal rights on her Facebook fan page. In 2013, Chang also created the teaser poster for the documentary Twelve Nights, which promoted animal protection awareness. As a nature lover, particularly of mountains, Chang likes to depict stories about human beings gaining spiritual freedom by surrendering to nature. Chang said it took a month to finish this selected artwork, mainly inspired by coming across the beautiful photography book Wilder Mann. She smiled and said, "I just let my hands go free this time while drawing. I randomly drew what came to my mind and ended up drawing a mountain monster. Later, I looked at the drawings and came up with the story." With this artwork, she utilized hand painting as well as computer drawing, as well as the materials including pencil, ink, oil pastel, and oil paint.
Lin Yun, Hey look!
Illustrator Lin Yun took her inspiration for her selected artwork from her Facebook fan page "Lutins." Lin stated that the core concept is to create both freedom and chaos at the same time in a system. She explained further that it is fun to depict the happenings of these little men in their routine daily lives, where students exercise, attend class in a typical classroom, wait to board transportation for off-campus lessons, and do the 100-meter run in PE class. While the on-campus environment is set up with certain systems and related rules for students to follow (such as walls, classrooms, and playgrounds), the students in each drawing seem to always be attracted by something. Instantly, the order is broken, creating a little chaos.
Chou I-Hsien, Open Window Project (Temporary translation)
Illustrator Chou I-Hsien (aka Ballboss) has a background in theater with diverse career experiences—director, actor, screenwriter, and now an illustrator. Chou likes to use bold and raw materials for his artworks. The selected work depicts the urban life at the bottom of society. "Maybe these people would be the first group of local people you'd know from Taichung." Chou expressed that travelers who arrive in a foreign city must have that ambiguous feeling because the city itself shields them through layers of high walls. In his drawings, three characters share details of their lives transparently, as if opening up invisible windows through concrete walls.
Lee Yun-Chuan, Faith
Though he graduated with a major in chemistry, Lee Yun-Chuan started his career as a theater director. One of the plays he both wrote and directed--"Sleep, Don't Speak" (Temporary translation)—was selected by the experimental theater of the National Theater. Lee laughed and said he might be the oldest illustrator among the selected group. When speaking about his work Faith, Lee explained the idea came from a picture of the future that came to him during meditation. "I think it looked like a time when the Earth was destroyed, and humans returned to do archaeological fieldwork, locating a broken cave. Inside the cave were five murals." According to Lee, the five magical murals which he gained inspiration from were Barren, Rising, Prosperity, Corruption, and Zero.
Jiang Yu, Be Born
Illustrator Jiang Yu started her career as a product designer and later shifted to graphic illustration. Jiang prefers hand drawing as well as computer drawing. The selected work depicts the journey of self-exploration before a person is born, in an age where an undefined person needs to explore and find out how his five senses connect with the world through a long journey. Jiang stated, "It is to find out how one person is different before coming into this world. Each moment is worth waiting for with patience." With a unique use of color matching that is unlike the traditional way, Jiang created a dreamy fantasy by using an astronaut to symbolize a newborn baby who faces an unknown world.
Tai Yu-Tung, PURURU
Illustrator Tai Yu-Tung gained inspiration from an improvised performance by a musician back in her college years. Tai described that it was when all students listened to the musician's performance and freely made drawings and artworks, she created the pink monster by the name of PURURU. Later, she started to fall for this little monster and decided to create a picture book based on it. The story is about a special friendship between PURURU and a space character. PURURU is born from the starry clouds, whose appearance scares people. Then comes the orange-color character from the cosmos, the only one person who is kind to PURURU, taking it to enjoy fun times together. Tai applied hand embroidery stitches, adding sophistication to the monster characters.
Teng Yu, Be Brave and Challenge the Unknown (Temporary translation)
This is Teng Yu's second time selected by the Illustrations Exhibition since 2017. The story is about an adult who loses courage while aging. Teng hoped to deliver a simple concept through the illustrations. She pointed out that dreams or goals we set during our youth seem to drift away when we get older. "As a grown-up, we seem to lose passion for certain things and often be in the same pattern doing things." She created this artwork to remind herself to always keep an open mind and to bravely try new things. The story depicts a little puppy, innocent and daring, which symbolizes the youth who are always curious about new things. Even when facing obstacles caused by ignorance, one should still move forward without hesitation.