Taiwan Shines at 2019 Bologna Children's Book Fair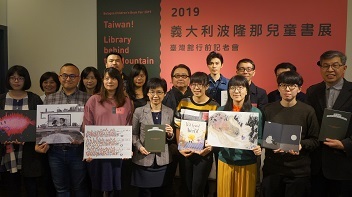 2019 is undoubtedly a golden year for Taiwan in terms of its illustration achievements, with a record-breaking 9 Taiwanese illustrators being selected for the prestigious Illustrators Exhibition of Bologna Children's Book Fair. These talented artists include Ballboss, Ying-Hsiu Chen, Yung Kai Chen, Meng Yun Chiang, Jiang Yu, Yun-Chuan Lee, Yun Lin, Yu-Tung Tai, and Yu Teng; whose works stand out among nearly 3,000 submissions from 62 countries.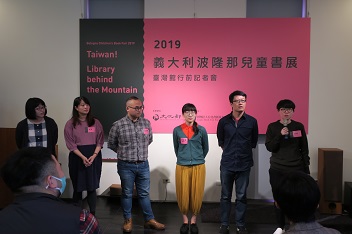 Themed as "Taiwan! Library Behind the Mountain," this year's Taiwan Pavilion presented a special exhibition showcasing animal-themed illustrations at the Fair from April 1st to April 4th. The pavilion was sponsored by Taiwan's Ministry of Culture and organized by Taipei Book Fair Foundation, and aimed to show the passion, diversity, and openness of the Taiwanese children's publishing sector to the world. Another highlight of the Taiwan Pavilion was the participation of five accomplished illustrators: Ahn Zhe, Pei-Yu Chang, Chih-Yuan Chen, Yu-Ching Huang, and Cindy Wume. Their marvelous works and unique aesthetic styles were introduced to international professionals and readers through book displays and author events.
Taiwanese Illustrators and Publishers Shine on the International Stage
The largest children's book fair in the world, Bologna Children's Book Fair and its Illustrators Exhibition are the holy land for many illustrators from different countries. This year's Illustrators Exhibition attracted 2901 entrants from 62 nations—of which only 76 artists were shortlisted, and 9 were from Taiwan. The inspiring number is preceded only by Japan. Not only is this the best performance ever for Taiwanese illustrators in three decades, but it is also a manifestation of the global competition and high quality of Taiwanese illustrators.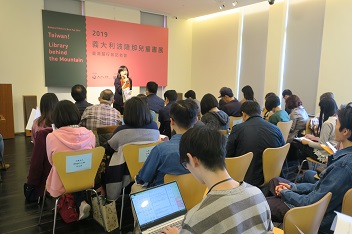 Another exciting news was that Taiwanese publishing house Locus Publishing was awarded the 7th BOP-Bologna Prize for the Best Children's Publishers of the World. The prize recognizes the best children's publishing houses in terms of topic selection, editing, and production. Several Taiwanese publishers, such as Grimm Press and Heryin, were shortlisted in this prize and Grimm Press was one of the 2014 winners. This year, the awards ceremony was held at 6:30 pm on April 1st in the Palazzo Comunale (Town Hall).
The Pavilion Demonstrates the Beauty of Taiwan's Landscape and Culture
Extending his curating concepts from the previous two years, Page Tsou drew this year's inspirations from the natural features of Taiwan—mountains and forests—and created a "Library Behind the Mountain." The library represented the accumulation of human knowledge and creativity. The major color of the pavilion was a rich, dark tone of green, which hinted at Taiwan's natural landscape and its subtropical climate. The curator arranged the Paradise Exhibition to echo the natural setting, which showcased a collection of animal illustrations by 30 Taiwanese illustrators. Each work was sophisticatedly framed and presented as in an art gallery, hoping to attract the attention of international professionals who were seeking foreign talents. Through the imagery of mountains and unique animal illustrations, the Taiwan pavilion welcomed visitors to experience the energy of Taiwan's natural landscape and creativity.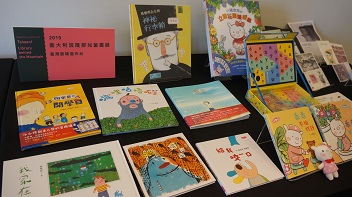 Covering 160 square meters, the Taiwan Pavilion was located at A153 in Hall 25, which also accommodated many leading US and UK publishing houses. The pavilion was divided into 5 exhibition areas which displayed animal-themed titles, recommended illustrators, recommended titles, digital publications, and featured publishers. There was also a space for meetings and activities. With the varied selection of 523 titles, the Taiwan Pavilion enabled international professionals to approach Taiwan's latest children's publications and comic books, and learn more about Taiwan's children's book sector. Furthermore, it helped foster business exchanges between Taiwan and other countries.
Moreover, in order to enhance the international competiveness of Taiwanese exhibitors and artists as well as broaden their visions, the Taiwan Pavilion continually arranged guided tours and training programs for the Taiwanese delegation. Taipei Book Fair Foundation also invited Kamy Pakdel, the art director of French publishing house Actes Sud, to offer one-on-one meetings for Taiwanese illustrators to help them create works that appeal not only to domestic readers but also international markets.
Five Recommended Illustrators Bring Their Best Works
The featured authors of this year's Taiwan Pavilion all have nurtured the field of picture books and children's books for many years. Their works have received international recognition for their unique styles and intriguing story arrangements. German-based Pei-Yu Chang's Mr. Benjamin's Suitcase of Secrets was shortlisted for "The Most Beautiful German Books 2017" and published in German, English, Chinese, Portuguese, and Czech. Peter Pan Prize winner Chih-Yuan Chen is the author of the worldwide bestseller Guji-Guji. Devoting himself to the fields of illustration and publishing for 30 years, Yu-Chin Huang's works have received numerous domestic and foreign awards. Apart from the role of illustrator, Ahn Zhe is also an actor. His artworks have been exhibited in France, Switzerland, Belgium, and Hong Kong, and won many awards, such as the official selection of 3x3 Illustration Show in the US and the Revelation Essential prize at the Angoulême International Comics Festival in France. Young talent Cindy Wume's works have been selected twice for the Illustrators Exhibition of Bologna Children's Book Fair. Her debut picture book The Best Sound in the World was published in 2018 in the UK by Frances Lincoln, part of the Quarto Group.