TAICCA to Promote Taiwanese Publications in Spanish-speaking Markets with Pivot Works Translated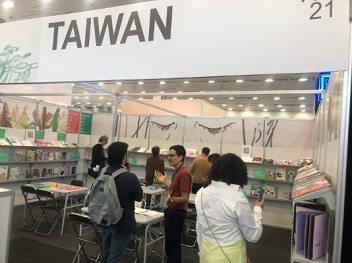 With the 2022 Guadalajara International Book Fair taking place from November 26 to December 4, many professional agents from around the world have arrived in Mexico to visit the largest book fair in the Spanish-language publishing industry. In order to help domestic industries expand non-English publishing markets, this year the Taiwan Creative Content Agency (TAICCA) set up a physical Taiwan Pavilion and delegated professional literary agents and experts from Taiwan to participate in physical exchanges and promotional events. In addition, to bridge language barriers and open up new opportunities for copyright trading, TAICCA launched the Spanish translation of ten pivot works from Taiwan, all accompanied with online Spanish book introductions and author profiles published by the Taiwanese book copyright promotion initiative "Books From Taiwan(BFT)"; With such information, professionals in the Spanish-language publishing industry can experience the ingenuity of Taiwanese works in depth. These endeavors also illustrate that TAICCA is always ready to assist domestic publishers in opening up new overseas markets, hence improving the visibility and copyright trading opportunities of Taiwanese publications in the Spanish-speaking world.



According to TAICCA CEO Izero Lee, the publishing industry is an important source of various forms of adaptation when it comes to cultural content works, and Taiwan boasts rich and diverse works with great potential for the global translation market. TAICCA thereby encourages publishers to expand Spanish-language publishing markets and will strive to help publishers overcome language barriers. "It is the mission of TAICCA." Lee added, "to introduce Taiwanese works in multiple languages and allow more international agents to know Taiwanese works. With Taiwan under global spotlight recently, it is the best moment to seize the opportunities for physical communication with the ease of Covid restrictions and expand overseas markets."
The Taiwan Pavilion is hosted by TAICCA, co-organized by the Taipei Book Fair Foundation, planned under the theme "Beyond Books, Stories Ahead". Artist Wu Jui-che, engaged in book designs in recent years, was invited to design the key visual concept which shows Taiwanese local life through street scenes based on Bei Lynn's Practicing Goodbye (whose Spanish copyright is now in active negotiation). Interestingly, Wu further extended this culturally meaningful imagery in his design for the special-edition masking tape, a souvenir highlighting the emotions and connections between people and showcasing Taiwan's enthusiasm in expanding the Spanish-speaking markets. In order to bridge language barriers, Ulises Benítez, international literary agent of B. K. Agency and former editor of Penguin Random House in Mexico, was invited to serve as the dedicated resident copyright officer to help international professionals understand the diverse Taiwanese publications in the Taiwan Pavilion.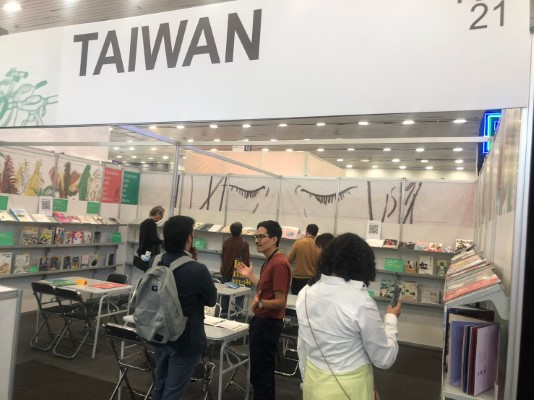 A total of Taiwan 51 publishers participated in the Guadalajara International Book Fair this year with 149 publications on exhibition. These works are categorized into four sections, including BFT, Award-winning Books (Golden Tripod Awards, Taiwan Literature Awards, etc.), Recommended Titles, and Foreign Rights Sold Titles (the last two of which were selected through public solicitation and professional review of experts who are familiar with the Spanish-speaking markets). In the BFT category, ten children's and picture books were shortlisted and translated into Spanish as samples, including Laima's Jerry Fu's Swimming Class, Chen Yu-Lin's The Angry Mountain (shortlisted in the Bologna Illustrators Exhibition), Liu Chen-kuo's The Righteous Frog River-Stream-Lake, Mao Yu's ΓΡAΦΩ –Goddess of Powerlifting, as well as Son of Formosa (copyright sold in multiple languages), Touching & Talking by Jimmy Liao, a prominent writer in Spanish-speaking markets, Animo Chen's The Short Elegy and Love Letter, among other fascinating works. Also, two special sections "Taiwan Comic City" and "Book to Screen" were planned to present the diversity of Taiwanese publications. Recommended titles include Taiwanese comics The Vicious Case Files: Invisible Kills, Yan, On Happiness Road, and many book-to-screen original works such as Working for a Crime Group as a Scriptwriter, The Skybridge, A police daily, etc.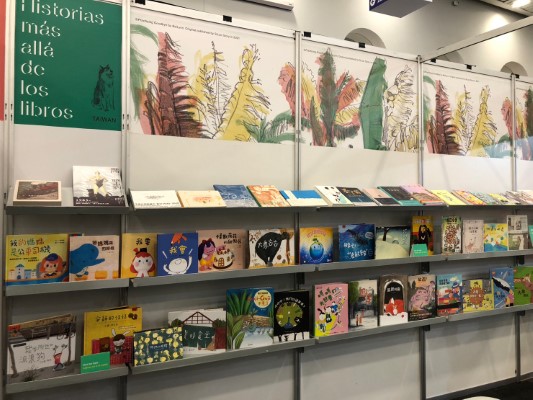 In addition to organizing the Taiwan Pavilion, TAICCA is also assisting domestic publishers to actively promote their works to professional agents. In addition to inviting representatives from international book fairs to exchange ideas at the opening event of the Taiwan Pavilion, TAICCA will also hold three copyright promotion sessions, including one-to-many copyright promotion meetings with Argentina and Latin American countries, and a get together session with 2022 FIL fellowship members from Latvia, Slovenia, Brazil, Finland, Hungary, Canada and Italy, to exchange information on international children's books as well as new developments of Taiwanese children's books and graphic products. The "Grant for the Publication of Taiwanese Works in Translation (GPT)" supported by the Ministry of Culture of Taiwan will also be introduced during the sessions. Besides the promotional sessions, a professional forum will also be held in collaboration with the Guadalajara International Book Fair. Ulises Benítez will share pivot works and the BFT initiative as the dedicated resident copyright officer who is familiar with the Taiwanese publishing industry. Emily Publishing Co editor-in-chief Emily Ching-chun Chuang will share an overview of non-fiction writing and her rich experience in attending overseas book fairs. Global Kids Books deputy copyright manager Siera Lai will share her insights into Taiwan's children's book market. Hsieh Meng-Ying, senior agent at Bardon-Chinese Media Agency, will share her experience in managing international networks and how visual literacy works have been exported overseas to help agents in Spanish-speaking markets understand the overview of Taiwan's publishing industry.
●

Guadalajara International Book Fair, Taiwan Pavilion Online:
https://booksfromtaiwan.taicca.tw/spanish
●

Taiwan Catalog: https://booksfromtaiwan.taicca.tw/spanish/acerca-de-taiwan
●

Books From Taiwan, the domestic copyright promotion initiative:
https://booksfromtaiwan.tw/