Book Design Forum: Master's Talks on Globalizing the Quality
6 December 2018
/ Hot News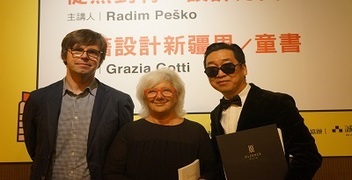 The 2019 Taipei International Book Exhibition (TIBE) Book Design Forum kicked off Nov. 14th in Taipei, and featured expert sessions by Radim Peško of the International Biennial of Graphic Design in Brno and Grazia Gotti of the Bologna Children's Book Fair, who shared their experiences in quality book designs from the perspective of typography and children's books, respectively. Through their in-depth dialogue, the two international expo masterminds shed light on the globalization of design sensibilities, as well as the necessity of paper-and-pen design in an increasingly digital world.
In celebration of the Czech Republic's centennial, Rep. Patrick Rumlar of the Czech Economic and Cultural Office was also present at the event and extended his best wishes for the interaction between Czech and local designers.
The task of the designer is to link up the many facets of society in his work, according to Peško. An expert typographer, Peško said that a good design should consider the reader's reception when reading a certain font as there is a clear context for the Western world's writing and printing press development. Therefore, typography design should strive to strike a balance while seeking to convey future possibilities.
Using his long-running experience working with the International Biennial of Graphic Design in Brno, which was established in 1964, Peško illustrated how his own fonts were applied in book designs, including the catalogues for the Brno event.
While fielding audience questions, Peško said that computer-based design sometimes distracts the artists from their original end purposes. He also added that he would instruct students to learn to make books using paper with handwritten material, as practicing handwriting helps designers form a clear idea of how and where their designs will find suitable application.
Starting with the Harry Potter series, Gotti demonstrated how some book cover designs became nightmarish after the copyrights had been sold to different language markets. Some of the worst covers included unbalanced typography design.
Gotti went on to analyze several success stories in children's book design, such as Bruno Munari's vintage style and Leo Lionni's "Little Blue and Little Yellow." Design quality can be globalized, she said, as good quality can put you in touch with the world without compromising your local sensibility. Still, all this has to be rooted in culture, she added.
Gotti also said that in this era of the internet and PC, you can only take your design to the next level with the help of paper and pen, which echoed Peško's remarks.