新月文化事業股份有限公司 CRESCENT CULTURAL ENTERPRISE,LTD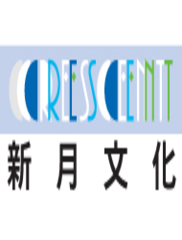 新月出版集團肇始於1995年7月,主力產品為羅曼史小說,由於業務成長,遂於1996年12月成立邀月文化事業股份有限公司,1999年9月洽談併購功倍實業有限公司,建立自有的發行體系後,公司基本業務體系架構完成。2000年新設花園文化事業有限公司,2006年再擴增藍海製作有限公司,延伸相關出版體系外的觸角。 而自集團創始以來,羅曼史歷經浪漫情懷、鍾情一生、璀璨直至花園系列,還有一系列經營管理與心靈勵志的產品,而藏愛、典藏系列長、短篇的愛情故事、大魔域一類鬼故事和私小說系列的網路小說加總近兩百冊。 目前羅曼史分別有花園、甜檸檬、掬夢春天三個系列;歸屬於邀月體系下月神幻界、霓幻鑰兩個系列出版奇幻類的作品,2009年成軍的月光之城系列則以出版耽美BL類作品為主;藍海體系下的藍海系列也開始啟動;2014年7月新成立的宅書舘系列則以出版輕小說為主,旗下網羅及培訓的作者群近百位。 放眼未來,我們的願景是朝全方位出版推進並順勢導入相關產業與周邊商品為原則,發行以多角化物流經營為目標,事業版圖以具國際觀的藍本為指引。

Crescent Publishing Group was established in July 1995.Initially,Crescent Cultural Enterprise, Ltd. was set up with romance novels as its main product. With its business growth, and in response to the increased market competition, Lunate Cultural Enterprise, Ltd. was established in December 1996.At the same time, the second stage of the Company's operational planning had begun. In March 1998,the Company expanded its editorial department and moved to its new location due to insufficient space of the original premises. Besides expanding the original editorial department, the Company added a fully computerized design department and a planning department, and completed an initial intranet system connecting the various departments. The first stage of staff training and development of management staff was targeted for completion within a one year period. In September 1999,the Company acquired Combat Cultural Enterprise Co, Ltd. After establishing its own distribution system, the Company's basic business framework was completed. In 2000,Garden Cultural Enterprise, Ltd. was set up, and the Company started planning on product differentiation and brand positioning, guiding the entire publishing system towards a comprehensive perspective. In 2006,Ocean Blue Production Co, Ltd. was further established to allow the group to branch into related publishing arenas. Since the founding of Crescent Publishing Group, nearly five thousand romance series novels ranging from "Romance Sentiment", "Eternal Love" and "Splendid" to "Garden Series", have been published. There are also series of management and inspirational books, as well as romance novels and short stories such as the "Hidden Love" and "Classic" series, ghost stories such as "The Demon Realm" and internet novels such as "Self Series", with a total of nearly two hundred items published. Currently under Romance ,there are three series: "Garden花園","Sweet Lemon甜檸檬" and "Spring春天";under Lunate, there are three fantasy series:"月神幻界","宅書舘"and "霓幻鑰";"月光之城" which was launched in September 2009,focuses on the genre of Boy's Love; "Blue Ocean Series藍海" under Ocean Blue was also launched in December. Established from July 2014, the new宅書舘series is focuses on light novel. The total number of authors recruited and trained is about a hundred. Moreover, continual planning of the classic romance series, and creation of picture book collection based on Strawberry Girl (Ichiko), who symbolizes romance, also demonstrate the creativity and continuity of the Company's products. The planning and publishing of theme music for romance series also enables further diversification of the Company's products. Looking forward, our vision is to work towards comprehensive publishing to include relevant industries and peripheral products, and aim towards a diversified logistics operation. Our business plan is based on a blueprint with an international perspective as guidance. Continual improvement and endless pursuit of development are the beliefs of our team. We believe that with our steady operation, we will surely be able to achieve our goals.
聯絡電話:886-2-29301211
地址:台北市文山區興隆路二段22巷7弄2號1樓 No.2,Alley 7,Lane 22,Sec.2,Hsing Long Rd,Taipei City,11687,TAIWAN
網址:http://shopping.crescent.com.tw/
相關活動:
2018-02-11 10:30 - 12:00
青春舞台