Taiwan illustrators Chinlun Lee and 61Chi shine at 2018 Guadalajara International Book Fair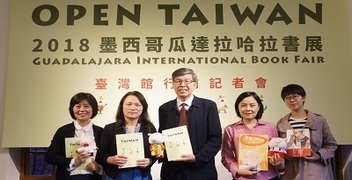 The Taiwan Pavilion at the 2018 Guadalajara International Book Fair wrapped up this year's successful Nov. 27th-Dec. 2nd run. Themed "Open Taiwan," the pavilion was praised for expanding the Spanish-speaking community's understanding of Taiwan while boosting overseas copyright sales
Better known as the FIL, the world's second-biggest book fair--and the Spanish-speaking world's largest book fair--is celebrating its 32nd edition in 2018. This year's Taiwan Pavilion was organized by the Taipei Book Fair Foundation under the auspices of the Ministry of Culture. Covering an area of 54 square meters, the pavilion comprised six booths which exhibited 462 titles from 55 publishers. Alongside the Spanish-language translation of 41 select local titles, the pavilion also showcased the two Taiwanese picture book authors Chinlun Lee and 61Chi (Liu Yi-Chi).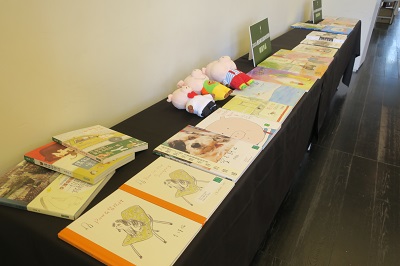 As an illustrator who works with a cat and dog theme, Lee is known for her heartfelt portrayal of mankind's favorite animals, which, according to her, is aimed at boosting awareness of the true value of cats and dogs regardless of breed. Lee said that she expects the genuine feelings between mankind and animals to help her win over the Spanish-speaking readers.
Meanwhile, the two Golden Comic Award-winning titles (Ordinary Days in Taipei and Small Town, Southern Time: Zouying & Cesky Krumlov by 61Chi) manifest the artist's in-depth observation of life in Kaohsiung, Taipei, and the Czech Republic. In addition to book signings at the pavilion, Lee was invited by the book fair to join fellow Argentinian, Mexican, and Spanish illustrators in a forum themed "The Constant Evolution of the Stroke" on Nov. 25th.
A major highlight of the Taiwan Pavilion this year was a dedicated corner for Spanish-language translation of 41 local titles. Among them were 10 picture books selected by Quetzal León, artistic director of the Mexican branch of Spanish publishing house SM Foundation, who expressed optimism in the potential of these books in the Spanish-speaking market. According to the organizer, in addition to trial translations from the last couple of years and books already sold for the particular market, the selection is expected to effectively bolster international interest in local publications.
In order to boost copyright trade during the course of the event, the Taiwan Pavilion provided funding for copyright professionals to assist in the initiative. Shin Su, one of the two professionals funded by the program, also gave a talk on worldwide support programs for translation and publication at Salon C in the book fair's international section.
This year's Taiwan Pavilion cemented the foundation for international exchanges during and after the event during the opening ceremony on Nov. 27th. Publishing heavyweights from home and abroad engaged in lively discussion with global media, FIL organizers, and Spanish-language publishers, paving the way for future multilateral collaboration.