Hung-Chi Liao: Biography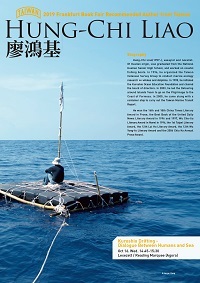 Hung-Chi Liao (1957), essayist and novelist. Of Hualien origin, Liao graduated from the National Hualien Senior High School, and worked on coastal fishing boats. In 1996, he organized the Ta iwan Cetacean Survey Group to conduct marine ecology research on whales and dolphins. In 1997, he planned and promoted whale watching activities. In 1998, he initiated the Kuroshio Ocean Education Foundation and chaired the board of directors. In 2000, he carried out the Kenting Cetacean Ecology Survey. In 2001, he followed the pelagic squiding boat to undertake the Taiwan Pelagic Fishing Report. In 2003, he led the Detouring around Islands Team to go on the Pilgrimage to the Coast of Formosa. In 2005, he came along with a container ship to carry out the Taiwan Marine Transit Report.

His works include Tao Hai Ren (Sea Demander), Qin Sheng Qin Shi (Life of Whale), Piao Liu Jian Yu (Drifting Prison), Lai Zi Shen Hai (Coming from Deep Ocean), Xun Zhao Yi Zuo Du Ju (Searching for an Island), Shan Hai Xiao Cheng (A Small City by the Sea and Hill), Hai Yang You Xia (Marine Paladin), Tai 11 Xian Lan Se Taipingyang (Blue Pacific Ocean in Provincial Highway No. 11), Piao Dao (Floating Island), Taiwan Dao Xun Li (To uring the Taiwan Island) (edited), Jiao Ji Chuan Hen (Footprints and Ship Marks), Hai Tian Fu Chen (Drifting along the Sea and Sky).

He won the 16th and 18th Time Literary Award in Prose, the Best Book of the United Daily News Literary Award in 1996 and 1997, Wu Cho-liu Literary Award in Novel in 1996, the 1st Taipei Literary
Award, the 12th Lai Ho Literary Award, the 12th Wu Yong-fu Literary Award and the 2006 Chiu Ko Annual Prose Award.