Syaman Rapongan: Biography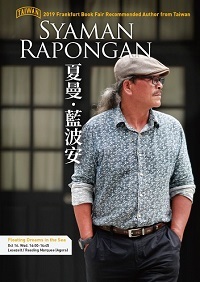 Syaman Rapongan (1957), a member of the Tao ethnic group, was born in Imorod Village, Lanyu (Orchid Island) Township, Taitung County. Syaman Rapongan is the writer's tribal name; his Chinese name is Shi Nulai. After high school, he declined an offer to enter university without having to take an exam and instead went north, where he served as a factory apprentice and did odd jobs. But he frequently dwelt on his childhood dream of going to university and in 1980 he enrolled at the Department of French at Tamkang University.
In 1988, while the democracy movement in Taiwan was flourishing, aboriginal recognition, environmental protection, and anti-nuclear movements also proliferated. Rapongan got involved with the Orchid Island grassroots anti-nuclear movement, and his first article, "Humanity," appeared in the China Times supplement and spoke of nuclear waste and Orchid Island. In 1989 he decided to go back to the outlying Orchid Island, where he set about relearning traditional Tao ways of life and developing two levels of identity: the first, an aboriginal individual's self-identity, and the second, the process by which the tribe checks and recognizes this identity.
The quest to return to the tribal village is also apparent in Rapongan's The Myths of Badai Bay (1992), a collection of myths and legends. His feelings about the return to the tribe are laid bare in Cold Sea, Deep Feeling: The Ocean Pilgrims (1997). In 1999 Rapongan studied for a Master's degree at Tsing Hua University's Institute of Anthropology in the hope of using academic discourse to describe the features of the Tao people's orally transmitted literature, rites and rituals, and lived experience. That same year, he published Black Wings, which won the Wu Choliu Prize.
Among his many roles, Rapongan has worked as a substitute teacher and has been a member of the Taipei City Government Indigenous People's Commission, a consultant for Taiwan Public Service Television Foundation's Aboriginal Programming Committee, and a member of the Executive Yuan's Orchid Island Community Development Committee. This varied experience has enabled him to work for and write about his tribe from different perspectives, as in The Memory of the Waves (2002), which tells of his feelings for the ocean. This book marks a departure from the ambivalence that marked his previous writings about the return to the tribe and instead portrays the Tao people with a tone of reminiscence.
In 2005 Rapongan began studying for a doctorate in the Department of Taiwanese Literature at National Cheng Kung University. In May of that year, he became the first Taiwanese person to cross the South Pacific in a canoe, with help from the "South Pacific Dream Travel" program set up by the Council for Cultural Affairs.
In December 2006 Japanese writer Nobuko Takagi came all the way to Orchid Island and interviewed Rapongan face to face as part of her literary odyssey. Rapongan's prose collection The Seafarer's Face (2007) and his short story collection Old Seafarer (2009) have opened up new directions for Taiwan's oceanic literature.