The 2019 Taipei International Book Exhibition a Huge Success, Korea Announced as 2020 Guest of Honor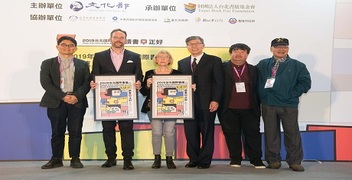 The 27th Taipei International Book Exhibition on February 17th received wide acclaim with 735 exhibitors from 52 countries, 1184 reading events, 1440 rights meetings, and 580,000 visits. Korea was announced as the 2020 guest of honor.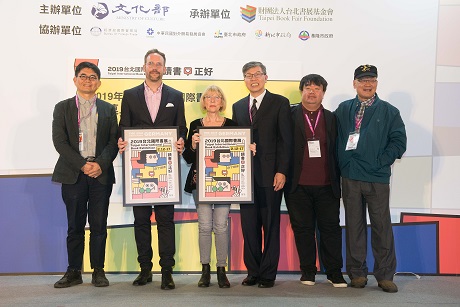 At the closing ceremony (from left) Teng-Chin Chen, secretary-general of the Ministry of Culture; Jens Rösler, director of Goethe Institut Taipei; Bärbel Becker, director of international projects at Frankfurter Buchmesse; James Chao, chairman of Taipei Book Fair Foundation; Iroo Joo, executive director of the Korean Publishers Association; Shin-Min Lin, the next chairman of Taipei Book Fair Foundation.

Another highlight at the closing ceremony was the awarding of prizes for the best stand design, which were decided by the votes of visitors and the evaluation of 5 professional juries (2 domestic, 3 international).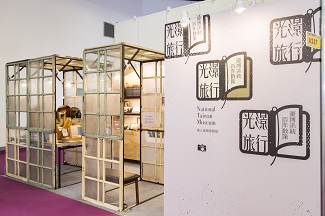 National Taiwan Museum, winner of the gold prize in the small stand category.
Vibrant atmosphere, warm people… A fair that anyone would love to visit again.
"I haven't been in Taipei for more than a decade. The air has become fresh. Everything is different. The atmosphere of the fair makes my heart pound so fast…" Previously a student in Taipei, German author and publisher Miriam Meckel said it felt like home as soon as she stepped into the exhibition.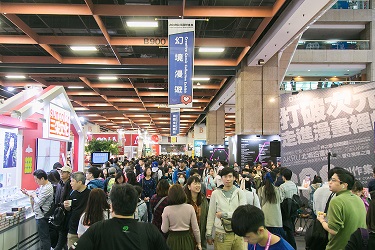 Visitors enjoying the lively atmosphere at the book fair.
Touring around the world for his new novel Bridge of Clay, Australian bestselling author Markus Zusak had the same familiar feeling when he revisited the city after 13 years. And just like the first time, the readers still impressed him the most. "We are in the age of efficiency, a time when all questions must be answered immediately. However, Taiwanese readers are different. They enjoy the process of reading. They are willing to wait and enjoy the whole story, instead of rushing to page 10 for the ending."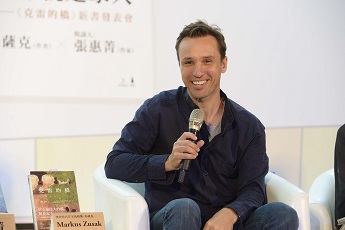 Zuzak was happy to be back in Taipei to promote his new book.
Guest of honor Germany brought a large delegation of 13 authors to Taipei. Their events were packed with passionate readers, and the pavilion was crowded with excited visitors taking photos in Bauhaus costumes. When a Taiwanese reader handed his worn copy to Sebastian Fitzek at a signing event and said he had read the book nine times, the psychological thriller master was so surprised and touched that he gave the reader a special signed card in return.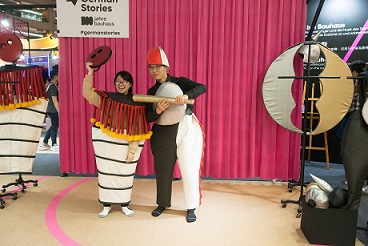 Taiwanese visitors trying on Bauhaus costumes.
"I love this book fair so much! There are so many things to experience. The publishing industry is so diverse. This is brilliant!" said Elena Pasoli (director of Bologna Children's Book Fair) when expressing her love for TIBE. While judging for the Best Stand Design Awards, Holger Volland (vice president of Frankfurter Buchmesse) commented, "I don't speak Chinese, but I can appreciate the design languages created by Taiwanese publishers. I think many stand designs all showed their sincere intention to welcome readers. The designs are sleek, clever, and very powerful!"
International exhibitors saw business opportunities
French and Japanese publishers and rights companies have been involved with the Asian market for a long time. This year, 60 publishing houses and 14 rights representatives from France participated in TIBE, holding over 200 meetings in total. As for Japan, most of the exhibitors reported having over 25 meetings in the first few days.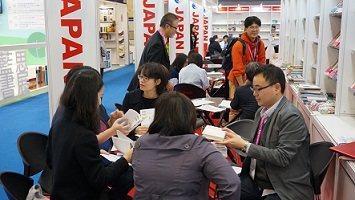 Rights meetings at the Japanese stand.
It was Slovakian publisher Albatros Media's first time to exhibit at TIBE. Taipei used to be a strange city for Jana Cieslarova, the rights specialist at Albatros. However, after 25 rights meetings with locals, she said, "Taiwanese publishers and rights agents are very professional and are open to Slovak children's books. The exhibition outcome is far better than my experiences in Shanghai and Beijing. People are so friendly. I must come back again."
Since its presence as Guest of Honor in 2009, Thailand has sent a delegation of over 30 publishing professionals to Taipei each year. This year, there were 19 publishing houses sending representatives. Companies such as Plan for Kids, Amarin Printing, EQ Plus, and Jamsai all arranged more than 20 meetings.
Veeraporn Nitiprapha, a two-time winner of the renowned S.E.A. Write Award and one of the most significant female writers in Thailand, was invited by PUBAT to TIBE this year. Not only did she enjoy interacting with Taiwanese readers, but her award-winning titles also grabbed much attention, receiving foreign rights requests from 6 to 7 publishing houses.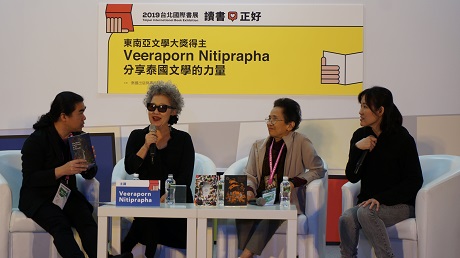 Thai author Veeraporn Nitiprapha (second from left) sharing the power of Thai literature with Taiwanese readers.
Taiwan: A Market of Openness and Diversity
Taiwan is a place of freedom and openness, which is also reflected in its publishing market. Taiwanese readers are interested in all genres, and are open to foreign cultures. "It's only the first day of the fair and we've already sold out the 100 selected books from German Book Award winners and children's literature!" said Meijuen Liu, general manager of Sunny Books.
To her surprise, the bestselling German title at the fair was a selection of Taiwanese literature during the period of martial law. "Actually, Taiwan and Germany have much in common in terms of values and topics that people are interested in. You can see how much Taiwanese audience is involved in the Q&A session of each event, asking questions about politics, technology, AI, and social issues. For the German authors, they are also surprised and glad to have the opportunity to hear different voices and have different conversations with the Taiwanese."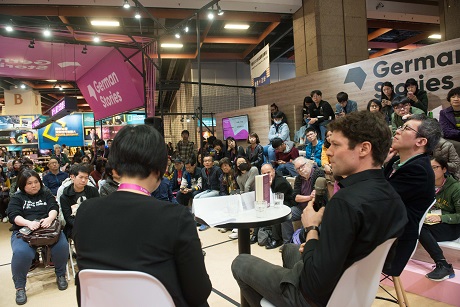 German journalist and editor Ronen Steinke (center) and Germany-based Taiwanese journalist and author Yu-li Lin (first right) talking about transitional justice at the German stand, attracting a large audience.
Having missed TIBE several times because of the adjacent London and Paris Book Fairs, the largest government research organization CNRS (The French National Center for Scientific Research) finally made their first visit to Taipei. It turned out a rewarding and enjoyable experience. They were surprised to find that Taiwanese readers are open to new things, and are highly interested in the latest scientific trends and knowledge. Speaking of France's academic contribution to history, the humanities, and science, most people would look for the classics. However, Taiwanese publishers care about different facets such as the future application and development. "For this, we can't wait to come back to Taipei again!"
The quality and topics of children's books in Taiwan were also highly recognized by international professionals. "I think the children's sector in Taiwan is very prosperous. The illustration works are marvelous. It has the potential to become the center and holy land of Children's publishing in Asia," praised Grazia Gotti, advisor for the Bologna Ragazzi Awards at Bologna Children's Book Fair.
Author Events Help Boost Book Sales
This year, TIBE welcomed authors from Germany, France, Belgium, Australia, Japan, Korea, Thailand, Malaysia, and Mainland China, in addition to many others. Local literary giants such as Pai Hsien-yung, Huang Chun-ming, and Wu Ming-yi, as well as celebrities (including actors, singers, and politicians), had speeches or signing events at the book fair. With the participation of these well-known faces, TIBE 2019 set a new one-day attendance record with more than 160,000 visits on Saturday. And the huge crowd gave rise to good sales.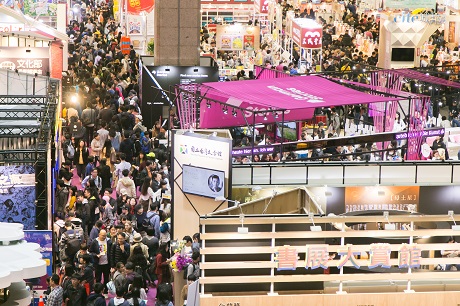 TIBE 2019 racked up 580,000 visits—the highest number in 5 years.
Compared to last year, DelightPress' sales volume increased by around 40%. It invited Japanese best-selling writer Toshikazu Kawaguchi to TIBE and sold 2,000 copies of his novels Before the Coffee Gets Cold, Before the Lies Are Revealed, and Before Your Memory Fades.

Japanese writer Toshikazu Kawaguchi (left) signing Chinese copies of his novels at the book fair.
Global Views – Commonwealth, a leading publishing group in Taiwan, also revealed a 30% growth in book sales, thanks to its discount pricing strategy and the book signing events of former President Ma Ying-jeou and writer Liu Hsuan. First-time exhibitor Souler Book sold out 600 pre-ordered copies of popular singer Jam Hsiao's new book at the fair. His event was also packed with fans and readers.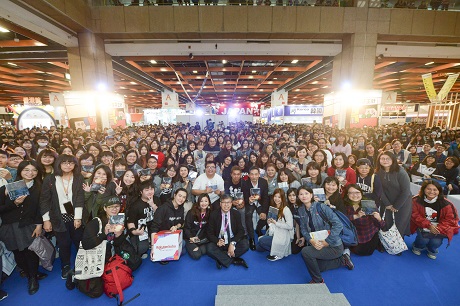 Hundreds of fans packed the book fair for their favorite music star's new book.


On the other hand, the Independent Publishers Association also had numerous supporters lining up at the cashier to bring back those cleverly-written, carefully-edited, sophisticatedly-designed titles. The Taiwan Association for Independent Bookshop Culture did not sell books at the fair, but was satisfied with the promotion result as it saw an encouraging increase in foreign visitors from Japan, Europe, the United States, Hong Kong, and Korea.
At Hall 3, the "New Semester Starts in TIBE" event brought in an impressive number of student groups. Moreover, the fun workshops designed especially for kids also contributed a lot to the sales performance.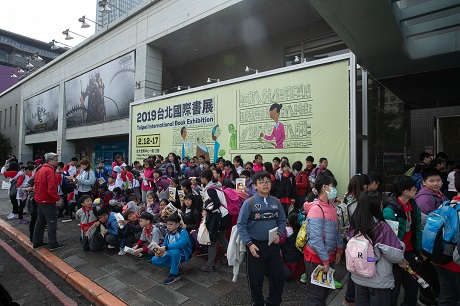 Outside Taipei World Trade Center Hall 3, students were lined up and waiting to get in.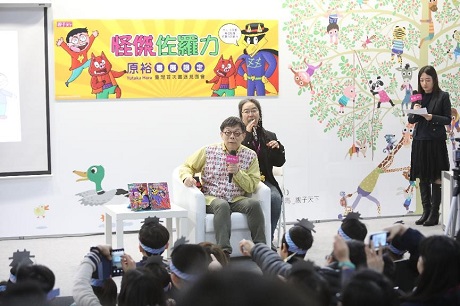 Yutaka Hara, the author of the Japanese best-selling children's series Incredible Zorori, was enthusiastically welcomed by numerous young fans.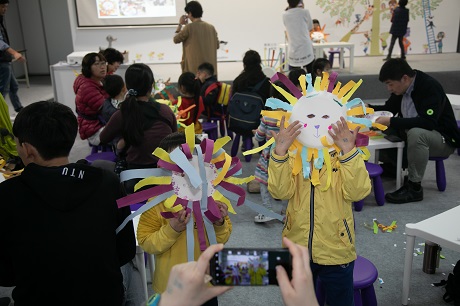 Children having fun at the DIY workshop area.


Reading fun continues after the fair
Curated by Taiwanese artist Page Tsou, the Taiwan/Bologna 30 exhibition showcased 235 works from Taiwanese illustrators' that were selected by the Bologna Illustrators Exhibition over the past 30 years. After 6 days of exhibition at TIBE, the works will be showcased again at New Taipei City Library during April and May, allowing more people to appreciate the beauty of Taiwanese illustrations.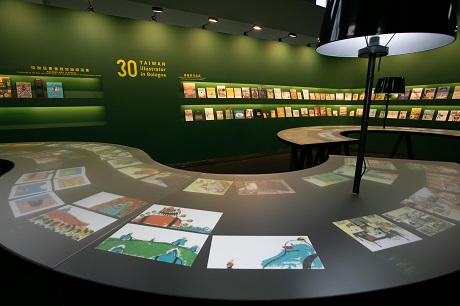 The Taiwan/Bologna 30 exhibition.

The 2019 TIBE cooperated with nearly 30 museums and cultural organizations. Visitors with TIBE ticket stubs obtained free admission to these associated museums, enriching themselves with books and the arts at the beginning of the year of the pig.